Benvenuto!

– Information About Italy
Italy, officially Italian Republic (Italian: Italia or Repubblica Italiana)
Why Travel To Italy?
Because this country has something special... It's associated with the sun, hot air, noise of cicadas, good food, good wine, tranquility, but also with the tradition and history.
An excellent illustration of the point is the comparison of France and Italy. Both countries have specific regions that are worth seeing, respectively Provence and Tuscany – really interesting places.
In France you will face a situation where the guidebook is full of information about this or that place – that it is old, it's important for the country's history etc. When you go there, you often see some old ruins, probably old, but to praise them so much...?
In Italy, the opposite is true. They do not have to promote their sights. The country is steeped in history. When you go through Tuscany, you see many picturesque villages that look as if the past centuries have not made any impression on them. Italians do not need to prove anything... What you see, defends itself.
You must see Provence, but you want to go back to Tuscany...

The History Of Italy In A Nutshell
General Information About Italy
Currency

: Euro, code: EUR, sign: €
The

electric network

is the standard European one (230V, 50Hz). However there is an issue with local AC power outlets (see below)...

Local time

: Central European Time zone - CET, which is UTC +1 (Summer Time UTC +2). In Rome it's the same time as in Paris or Berlin.

Telephone country code

: +39

Country code top-level domain

used by websites: .it
Italian AC Power Outlet/Plug
Italy is one of the few EU countries that does not officially apply CENELEC standards. Although recently, especially in renovated houses, you will be able to find more often the European electrical outlets as well – after all, tourism is an important business in Italy.
Usually you will find there specific Italian outlets (Type L, CEI 23-16/VII) with 3 holes in a row, with a protective-earth connection in the middle. There are two types: the low power 10 A and the higher power 16 A.
Generally, the small two-pin Europlug, with thinner pins (CEE 7/16 standard) fits in the local Italian lower power outlets. A larger European plug, with thicker pins (CEE 7/17, or CEE 7/7) will fit only in the European outlets. Anyway, the UK and US plugs will not fit.
The following pictures would help, visualizing the point:

Types of European AC power plugs, Euro plug CEE 7/16 fits into the Italian outlet type L - 10 A.
Beneath you see the Italian universal electrical outlet with a switch (left connector 10 A, 16 A on the right):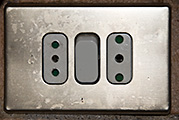 Summing up, do not experiment, because this may end up badly, you'd better have with you a proper adapter - a universal AC power outlet converter.

Consular Information
The Italian Republic is a member of the European Union and the Schengen Agreement. Citizens of Schengen countries may stay in Italy up to 90 days, without special permission. Travel document to be entitled to visa-free entry and residence (regardless of its purpose) is a passport or identity card. Non-Schengen travelers (so also from UK) should have valid passports. UK and US citizens do not need a visa entering Italy up to 90 days for tourist or business purposes.
Word of caution: buying counterfeit goods of world famous brands from the street sellers is forbidden and may be penalized by incurring large fine - the buyer is punished! So you have to be careful, especially since this trade is fairly common in major Italian cities...
The completion of declaration of presence is required if you come from Schengen countries and if, for example, you arrive by plane from US the stamp in your passport at the airport is the equivalent. This obligation is usually processed by the Italian national inviting a foreigner or by the hotel staff.
Before leaving for Italy no vaccinations are required. It is usually wise to buy travel and medical insurance before travelling.
Check also your Ministry of Foreign Affairs website regarding Italy, as an example information about Italy from the UK Foreign & Commonwealth Office site and US Department of State site.

Health And Safety
Travel To And Through Italy
Currency And Costs
Italy is part of the Eurozone, so the currency is the Euro (EUR), and the sign is €.
Credit cards (especially VISA and MasterCard) are widely accepted in Italy, as in the whole Europe. Important note for Americans. In many countries in Europe credit cards with a stripe and authorized by signature are replaced by chip cards with a pin code. So it's worth to remember the pin to your credit card.
Financial issues are quite complicated and unstable in recent years, so please treat this information just as indication of the market trends.
Please check the useful official Italian highways operator website (in English), where you can plan your journey. Unfortunately the names of departure and arrival cities should be written in Italian. It will calculate the route, displaying distance, travel time, toll, also showing weather, fuel prices on sample stations along the way etc.
Example tolls of Italian highways:
Milano (Milan)-Firenze (Florence) 286 km / 177 mi – €19.90
Brennero (Brenner Pass)-Roma (Rome) 715 km / 444.5 mi – €48
Torino (Turin)-Venezia (Venice) 399 km / 247 mi – €29.70
Fuel in Italy is quite expensive in comparison with other European countries.
Costs of living in Italy fit in the Eurozone average, being on the higher side because of the taxes. For a UK tourist Italy might be cheaper, for travelers from US Italy will be more expensive (quite often the price would has the same amount as in the States but in euro instead of dollars...).
The costs depend on the preferences. You can stay in a luxury hotel, or in an apartment rented in a village for example in Tuscany, where agritourism (agriturismo) is becoming popular. You can eat very well in small cheap trattoria, but also you can spend a lot in a main street restaurant. You can buy food and beverages in a downtown shop, or go to a supermarket. The prices will differ considerably.
Important note - many museums or historical sites (including the cathedrals, and churches) charge for admission. Instead of paying more, buying separately the ticket for each site, it's worth buying the city card with unlimited (or nearly unlimited) access to many sites and museums throughout the city. Examples: Verona Card, or Venice Card. It's a much cheaper alternative.

Climate And Weather In Italy
How To Dress
In Italy the summer is generally warm, but in addition to typical summer clothes you should have a sweater for colder nights and a raincoat for bad weather.
If you walk a lot, you might want to take comfortable sports shoes, and swimming shoes to bathe in the sea, as some shores are rocky ones.
If you spend a lot of time outdoors on sunny days, it is worth to remember about sunglasses. They will protect your eyes from strong light.
And one more issue related to the outfit. In Italy, visiting churches in short pants or a short skirt and a shirt or a dress without sleeves is unwelcome. When you plan to visit religious sites, wear something with short sleeves, even a t-shirt and take care of trousers or skirts below the knee. In particular, it is worth remembering when going to the Vatican.

When To Go To Italy?
Holiday Conditions In Italy
For Italians, tourism is a very important branch of the economy. Tourists are willing to come here, and their number reaches 44 million annually, placing Italy in 5th place of the world's most popular holiday destinations.
This translates into a decent tourist infrastructure and not only a great number of accommodations of varying standards, but also a huge number of restaurants of all types.
The last point, to some extent relates also to the Italians' lifestyle. They like to eat outside and that has a positive impact on quality and price. Restaurateurs do not focus only on the tourists (well, maybe except for places like Venice), they have to keep high quality of food and good prices to not deter their regular clientele...

Accommodation
In Italy you can find accommodation in many hotels and camping sites. Another popular option is the rental of vacation apartments. Italians rebuild old houses, farm buildings near the homes into holiday facilities. Most of them are decorated in the local style. The buildings old looking outside, inside are refreshed and well equipped, especially the kitchen. The interior is kept in the style of the building, usually is equipped with old, stylish furniture. The restoration of old cabinets, dressers, tables, etc. is largely in fashion in Italy right now.
Owners often build swimming pools for their guests, which is especially relevant in places located far from the sea, for example in the heart of Tuscany.
The house usually has two or more apartments, sometimes there is only one. Once we got to the apartment in a large estate, where we were alone and shared the swimming pool and spacious surroundings only with the hosts, incidentally, very likeable, who appeared rarely. Outside, under the shelter there was a big table where we would eat Italian dinner in the open air...
Many of the apartment buildings are prepared in the country or outside the cities. A major advantage of this solution is peace and silence. You can live the pace of the local community. This means also that the grocery is usually a bit faraway and you need to take the car to the nearest village, but the inconvenience is actually a rewarding opportunity to observe the beauty of the surrounding vineyards and olive groves.

People And Language